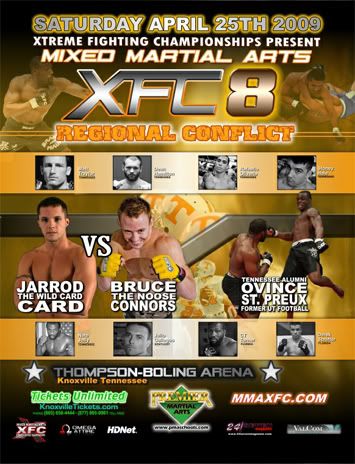 Written by Penny Buffington
XFC 8: Regional Conflict will be on HDNet Sat. April 25th. The main event will be the featherweight championship title bout between undefeated Bruce "The Noose" Connors (7-0) and Jarrod "The Wild Card" Card (7-3-1).
Bruce "tells us, "It's for the featherweight title for the XFC and it is going to be on HDNet Television live.
I explained to Connors that XFC founder John Prisco has been heard expressing great excitement over this match-up to which Bruce replied, "I know he is excited about the fight. He is excited I am fighting for the title. He put his faith into me and that means a lot because I have been looking to have someone to put their faith into me and to have my back and to promote me and with what he is doing he has done a fabulous job so far."
Bruce has won all but 1 of his 7 fights by some form of choke gaining him his nick name. "It's Bruce "The Noose" Connors because some of the guys from my SWAT TEAM started calling me "The Noose" because I kept winning fights by chocking. It was one of the guys I work with and from there it traveled to one of my fights and everybody kind of picked it up."
His intentions for the fight are, "Basically to keep it my fight and stay calm and stick to my game plan. Nothing fancy just go out there be determined and win the fight."
Bruce gave some background on himself. "I went into the marine core right out of high school and I tried out for "Snipers" while I was in there. It is an elite unit that you have to actually try out for. You can't just go in and enter as a Marine sniper. I did 2 tours overseas and while I was in there I actually met a guy that was into Brazilian Jiu-Jitsu. He was basically a beginner. At any free time which wasn't much we rolled around. It was something that I had wanted to do previously because I had watched the first UFC but I just never knew actually how to get into it. When I got out of the Marine Core I got into Law Enforcement and that actually gave me the time to start looking around. I actually went down to one of the fights down south Florida and that is where I hooked up with Marcio Simas who I train with right now and I started getting into it!"
"I'm still working for the police department I am a sniper on the SWAT TEAM it takes up a lot of my time but if I'm not working then I'm training. I train with Marcio Simas and Gustavo Muggiati." (Gracie Barra Orlando Brazilian Jiu Jitsu Academy Orlando, FL) "The Noose" goes on to explain, "They are both black belts in Brazilian Jiu Jitsu. I trainMMA under them and Brazilian Jiu Jitsu and I also train at Dan's Boxing in Kissimmee. Daniel Soto is the boxing coach over there."
"The Noose" has helpful supporters. "I have a fiancé who is ride or die for me. She doesn't necessarily like the idea of me being hurt but she appreciate that I am dedicated to it and all my family has been to all my fights. My brother is right there with me. He trains a lot of the time right beside me and helps me prepare for the fights."
If Bruce can gain this title to add to his already achived Cage Warriors title the possibilities may start to open up turning him from police officer to full time fighter. "I would hope so and hopefully Remington my manager can make that happen. He has been doing a great job so far."
As for the fight this Sat. Connors finished the interview letting us know,"It should be a brutal but quick fight."